Update: the title of this post refers to the season (as in "the summer of savings!"). I inexplicably hadn't thought of the more common meaning of 'fall' when I wrote it (d'oh!), and this post is not meant to imply that I think file-sharing is going away anytime soon.
---
This is the fall of file-sharing. With negotiations on the ACTA wrapping up and legislation like the Combating Online Infringement and Counterfeits Act making their way through Congress, I thought it would be a good time to take stock of "the state of online piracy", as it were. Call it what you will – file-sharing, digital theft, copyright infringement – the ease and speed that unauthorized reproduction and distribution of creative works over the internet has caused content industries and creators much consternation over the past decade or so.
The recording industry, by way of example, has seen its sales cut in half in ten years: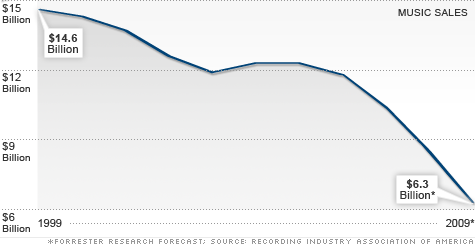 Nearly every other creative industry has felt the pinch, from book publishers to film studios, television producers, photographers, and newspapers. But music file-sharing is often thought of as the "canary in the coal mine" of online piracy because of small file sizes and the nature of consumption habits. It's not surprising then that the recording industry has been one of the first to respond to online piracy, and its actions have garnered the bulk of the attention in the copyright debates.
From 2003-2008, record labels engaged in a campaign to sue individuals for downloading and uploading music online. Although they filed around 35,000 lawsuits, only two of those cases went to trial. Those cases are still not completely settled.
Today, I want to take a look at where these cases stand. What do industry groups think about this strategy? Recent interviews shed some light on this question. Finally, what role does online piracy play in the dive in sales illustrated by the graph above? I sum up the research to date.
File-sharing Litigation Developments
Last year, the only two defendants to make it to trial in the record labels campaign against individual file-sharers were found liable for copyright infringement and faced considerable damages. In both cases, the damages were subsequently reduced on different grounds and the outcomes challenged. A separate defendant never made it to trial but is seeking Supreme Court review of her verdict.
The third trial for Jammie Thomas-Rasset is set for November 1. Thomas-Rasset was first sued in 2006 by several record labels for downloading and uploading music using the P2P software KaZaa. A jury found her liable for copyright infringement and awarded damages of $222,000. The judge sua sponte ordered a new trial after he determined there had been an error in the jury instructions. 1Ben Sheffner, The Jammie Thomas Re-trial: Frequently Asked Questions, June 10, 2009. In 2009, Thomas-Rasset was found liable again by the jury, this time awarding damages of $1,920,000. A few months later, the judge reduced the award to $54,000 using the common-law doctrine of remittitur. After Thomas-Rasset rejected a settlement offer of $25,000, the record labels rejected the remittitur and opted for a new trial – one concerning only damages.
Also making its way through the courts is an appeal in the Tenenbaum file-sharing case. Last year a jury found Joel Tenenbaum liable for downloading and uploading music and awarded damages of $675,000. Tenenbaum subsequently moved for a reduction in damages. This past July, the court granted his motion and reduced damages to $67,500 – on constitutional grounds rather than under the doctrine of remittitur as in the Thomas-Rasset case. The record labels appealed the reduction; briefing and oral arguments will likely begin in the next couple months.
There are hints that the Supreme Court may take up an issue raised in a third file-sharing lawsuit, albeit one that did not make it to trial. A district court ruled on cross-motions for summary judgment that Whitney Harper was liable for copyright infringement but, as an "innocent infringer", qualified for mitigated statutory damages of $200 per infringed work. 2It is a common misconception that "innocent infringement" is a defense to copyright infringement, but that is not the case. A plaintiff in a copyright suit may seek statutory damages in lieu of actual damages. If a defendant is found liable of copyright infringement, a court may award between $750 and $30,000 per infringed work. If statutory damages are sought, a defendant can make a showing that he was as not aware and had no reason to believe that his or her acts constituted an infringement of copyright" – if successful, the court has discretion to reduce the minimum statutory damages to $200 per infringed work. In February, the Fifth Circuit reversed the court's ruling on innocent infringement. Harper subsequently petitioned for Supreme Court review of the Fifth Circuit's ruling, a petition the Court is currently considering.
The RIAA and MPAA Speak Out
As industry groups that represent the bulk of companies that produce and distribute movies and music, the RIAA and MPAA are on center stage of the copyright debates. Perhaps more than any other event, the RIAA member label's litigation campaign against individual downloaders has pushed copyright law into the public conscious.
Recently, representatives of both industry groups have talked online about internet piracy, shedding some light on their reactions and approaches. In August, RIAA President Cary Sherman spoke with Vice Magazine. While it's clear the interviewer doesn't side with the RIAA, 3The article begins, "Many, many people believe that the Recording Industry Association of America is a giant hairy tumor on the neck of the music business. Many people further feel that this disgusting malignancy has slowly spread its cancerous wrath across the public domain in recent years." Sherman provides insights into the enormity of the problems online piracy poses to the recording industry and its response to it:
A few years ago the RIAA switched tactics. Instead of high-profile prosecutions of people who pirated music, you decided to put the onus on the ISPs. How successful was that transition?
The time had come to shift over to a strategy that would be more effective. The lawsuits were obviously controversial in the media, but the reality was that most people had no idea that what they were doing was illegal at the time of those lawsuits. We did all sorts of surveys. We tried PR firms. We did everything to look at how to begin to change the culture of using illegal P2P. We realized that 1) none of the messages resonated, and 2) most people had no idea that what they were doing was illegal, let alone thought it was wrong. That completely flipped overnight when we started the lawsuits. It made an enormous impression and we were constantly generating dinner conversations about what you may or may not do with your computer. We think it would be very good if there were more such conversations about all the other things that can be done inappropriately with a computer. So we think it had a tremendous impact by very clearly searing in the minds of the public that maybe getting all of this stuff for free isn't legal after all.
Just yesterday, Copygrounds posted an interview with MPAA representatives Fritz Attaway and Craig Hoffman. Like the interview with Sherman, the piece covers many topics relating to the state of online piracy today. In particular, Attaway compares the MPAA's response to online piracy with the RIAA's:
We have used slightly different tactics than RIAA in part because of the nature of our respective works. There are certainly other reasons as well but MPAA has filed end user lawsuits like RIAA has. However, they are very expensive and we have determined that there are other routes that provide a better return; among them education, working with intermediaries like ISPs to discourage infringing activity, and one, that is probably the most important, is encouraging the development of new business models that provide legitimate alternatives. All of these avenues we are pursuing very aggressively. Because for a number of reasons RIAA has focused on end-user suits and that makes sense for them. It is absolutely necessary we would agree that there be consequences to infringing behavior. If bad behavior does not result in consequences pretty soon no one thinks it's wrong. And that is not a good thing. So we agree that it is helpful to establish that there are consequences for infringing behavior but there are also a number of other things that can be done to discourage bad behavior and we are pursuing those as well.
Effects of Online Piracy
Surprisingly, there are some who oppose the industry's response to online piracy, but the idea that online piracy harms sales itself. These beliefs are bolstered by a 2004 paper by researchers Olberholzer-Gee and Strumpf which concluded that the net effect of online piracy on sales is "statistically indistinguishable from zero." The paper was widely hailed among the file-sharing crowd as conclusive proof that online piracy is justified.
However, this crowd missed the news that this past June, Olberholzer-Gee and Strumpf announced a new paper that found up to 20% of the recording industry's decrease in sales is attributed to file-sharing. This conclusion is more consistent with industry estimates and other independent research. Other researchers, most notably Stan Liebowitz, had previously noted deficiencies in the original paper.
The reality is that a number of independent scholars have researched the effect of online piracy on recorded music sales. The consensus hovers around a 15% reduction in music sales directly attributable to file-sharing. I've included a summary of as many studies as I've come across below.
Along the same lines as the question "does online piracy hurt sales" is the question "does managing piracy help sales." Research suggests that it does. A study by David Blackburn concluded that a 30% reduction in file-sharing across the board would increase music sales by 10%. Analysis of the litigation campaign by RIAA record labels also show a positive benefit:
The RIAA's litigation efforts against direct infringers have led to an initial decrease infile-sharing on P2P networks, have prompted universities to adopt copyright policies and initiate negotiations with legitimate sites, and have increased the appeal of legitimate sites. In addition,album sales increased for the first time in several years by 4.7 percent in the last quarter of 2003. In January 2004, sales showed a 10.4 percent increase since January of the previous year. Total sales in 2004 are predicted to exceed those in the last two years, although the rate of increase has slowed.
The Fall of File-sharing
The upcoming weeks and month will no doubt show a lot of movement within the law on issues relating to online piracy. Expect the copyright debates to continue at a fevered pitch. In the meantime, if you have any stories or topics you'd like to see covered here, drop a message or comment.
References

↑

1
Ben Sheffner, The Jammie Thomas Re-trial: Frequently Asked Questions, June 10, 2009.

↑

2
It is a common misconception that "innocent infringement" is a defense to copyright infringement, but that is not the case. A plaintiff in a copyright suit may seek statutory damages in lieu of actual damages. If a defendant is found liable of copyright infringement, a court may award between $750 and $30,000 per infringed work. If statutory damages are sought, a defendant can make a showing that he was as not aware and had no reason to believe that his or her acts constituted an infringement of copyright" – if successful, the court has discretion to reduce the minimum statutory damages to $200 per infringed work.

↑

3
The article begins, "Many, many people believe that the Recording Industry Association of America is a giant hairy tumor on the neck of the music business. Many people further feel that this disgusting malignancy has slowly spread its cancerous wrath across the public domain in recent years."